Occasional targeted skincare

Hyperpigmented skin

Patented combination of active ingredients

WHAT INGREDIENTS?

View its composition
Pigmentbio
Sensitive Areas
Proven efficacy
75% evened skin.*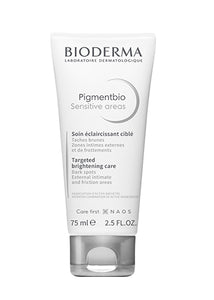 Occasional targeted skincare

Hyperpigmented skin

Patented combination of active ingredients

WHAT INGREDIENTS?

View its composition
What happens in your skin
All BIODERMA products are formulated according to the ecobiology principles, which is at the heart of NAOS approach to respect the skin ecosystem and preserve its health lastingly.
A Laboratoire Bioderma innovation, Pigmentbio Sensitive Areas is the first care product specifically designed to effectively address pigmentation disorders in delicate and intimate areas. This product contains a patented combination of active ingredients recognised for their depigmenting action: andrographolide, lysine azelate and glabridin. These active ingredients regulate the biological mechanisms that cause hyperpigmentation for optimum brightening and preventive efficacy. Pigmentbio Sensitive Areas thus helps brighten and even out areas of friction (knees, elbows, neck, underarms, thighs and groin) as well as external intimate areas. In addition to this patented combination of active ingredients, this product contains a golden seaweed extract (Laminaria ochroleuca) that helps soothe irritated sensitive areas and prevent redness, which can also cause skin colour variations.
Usage advices
Body
External intimate areas
Once or twice a day
Step 1 Apply to affected areas after cleansing.


Step 2 The product can be used directly after waxing or shaving to help prevent redness and differences in skin colour.


External use only.
Efficiency & composition
Better understanding for better care

All BIODERMA products are formulated according to the ecobiology principles, which is at the heart of NAOS approach to respect the skin ecosystem and preserve its health lastingly.

Tested under dermatological control

Immediate results

Soothes the skin Immediately soothes the skin: 70% (1)

See sources

Lasting results

Evens out the skin Evens out complexion of areas subject to friction: 75% (2) Soothes skin Reduces skin redness due to friction: 80% (2) Moisturises Hydrates the skin: 95% (2)

See sources