Proven efficacy
Tightened pores up to 8 hours.*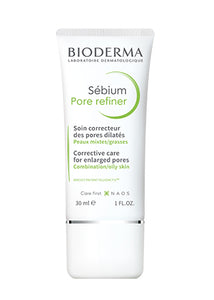 What happens in your skin
All BIODERMA products are formulated according to the ecobiology principles, which is at the heart of NAOS approach to respect the skin ecosystem and preserve its health lastingly.
Sébium Pore finer is specifically formulated to reduce the appearance of pores of combination to oily skin:
- The exclusive Fluidactiv™ patented complex biologically regulates sebum quality, keeping pores from becoming clogged and limiting the formation of blemishes.
- Agaric acid, an astringent ingredient, in combination with a smoothing active ingredient refine skin texture and preserve its natural radiance.
- Mattifying powders reduce shine.
Usage advices
FACE
Once or twice a day
Step 1 Use on skin cleansed with Sébium Gel moussant (Foaming gel) or Sébium H2O.


Step 2 Apply on its own or before applying your skincare cream, either all over the face for oily skin, or locally on the T-zone for combination skin: Forehead, nose, chin.


If problems persist, consult a healthcare professional.
Efficiency & composition
Better understanding for better care

One of the consequences of combination to oily skin is the appearance of dilated pores of varying size.
When there is excess sebum, it is harder to secrete, leading to pore enlargement. Relatively inflamed pimple or blackhead may occasionally appear. In general, dilated pores are concentrated in the T-zone area of the face (forehaead, nose, chin) and can extend to the top of the cheekbones.

Consequently a specific care is required to answer this particular need.

Tested under dermatological control

Immediate results

Tightens pores

-28% in the number of pores in 15 minutes (1)

-50% roughness (smoother skin) in 15 minutes (1)

Rapid absorption: 100% (2)

See sources

Lasting results

Tightens pores

-14% in the number of pores after 8 hours (1)

-31% roughness (smoother skin) after 8 hours (1)

Skin not shiny at the end of the day: 84% (3)

See sources