Daily skincare

SENSITIVE SKIN

D.A.F. Patent
Proven Efficacy
Hydrating efficacy: 8h.*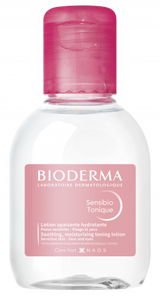 Daily skincare

SENSITIVE SKIN

D.A.F. Patent
What happens in your skin
All BIODERMA products are formulated according to the ecobiology principles, which is at the heart of NAOS approach to respect the skin ecosystem and preserve its health lastingly.
To meet the specific needs of sensitive skin, Sensibio Tonique contains an active ingredient that minimises the sudden appearance of redness and feelings of discomfort: Allantoin helps sooth the epidermis.
The combination of Xylitol and Glycerine significantly increases the hydrating power.
Sensibio Tonique is specifically suited to sensitive skin, guaranteeing them immediate soothing, together with genuine cutaneous comfort, and perfect tolerance.
Usage advices
Face
Eyes and eyelids
Morning and/or evening
Step 1 Place a few drops in the palm of your hands or on a cotton pad.


Step 2 Apply onto the face and eyes.


Step 3 Lightly massage.
Efficiency & composition
Better understanding for better care

All BIODERMA products are formulated according to the ecobiology principles, which is at the heart of NAOS approach to respect the skin ecosystem and preserve its health lastingly.

Tested under dermatological control

Immediate results

Lasting results