Rinse-off daily cleanser

Skin barrier therapy™ patent

For who ?

For all the family (except premature infants)

WHAT INGREDIENTS?

View its composition
Atoderm
Intensive Gel Moussant
Efficacy proven by dermatological studies
85% of skins feels more comfortable.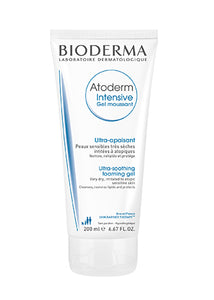 Rinse-off daily cleanser

Skin barrier therapy™ patent

For who ?

For all the family (except premature infants)

WHAT INGREDIENTS?

View its composition
What happens in your skin
All BIODERMA products are formulated according to the ecobiology principles, which is at the heart of NAOS approach to respect the skin ecosystem and preserve its health lastingly.
Formulated with purifying agents and Vitamin PP, Atoderm Intensive Gel Moussant combats the proliferation of micro-organisms, irritants that aggravate cutaneous dryness.
Atoderm Intensive Gel Moussant soothes sensations of discomfort and irritation and helps biologically strengthen the skin barrier.
Usage advices
Body
FACE
Hands
Morning and/or evening
Step 1 Apply Atoderm Intensive Gel Moussant on wet skin.


Step 2 Lather, then rinse thoroughly.


Step 3 Dry gently.


Step 4 Then use Atoderm Intensive Baume (Balm) care.


If dryness persists, consult a healthcare professional. May be used on newborns, with the exception of premature infants.
Efficiency & composition
Better understanding for better care

Very dry skin is characterised by discomfort and tightness and possibly itching, cracks or chapping, notably in the most exposed or fragile areas. Irritated to atopic skin is characterised by extreme dryness and red patches often covered with small vesicles (small "blisters") causing intense itching.
Tested under dermatological control

Immediate results

Soothes
Skin is soothed for 90% of volunteers*
Skin is more comfortable for 85% of volunteers*

Protects from cutaneous dryness
Skin is better hydrated for 90% of volunteers*


See sources